Ours CEM intelligence – The ultimate market insight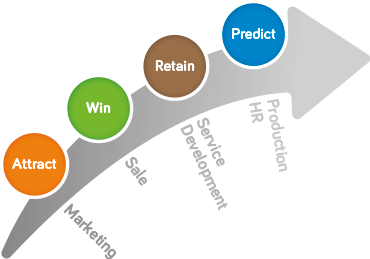 Represents a valuable foundation for making decisions on your company's communication- and business development. The method is unique and gives you up-to date knowledge of the experience of your current and potential customers when meeting you and your competitors.
You get exact and coherent knowledge of the experiences and assessments of the Vietnamese across areas, products, services and departments. This gives you an insight into how to attract and win new customers, which ones are "ripe for the taking" and only need the final push, as well as how to retain current customers. You can predict the behaviour of the Vietnamese on a wide range of parameters, and you can compare your performance with that of your competitors.
This means that you can see your positioning opportunities, and that you get the best foundation for effective strategies and efforts.
Increase your market knowledge – across languages, systems and previous studies.
CEM Intelligence increases your customer insight and at the same time makes it cost-effective, because you can collect all of your surveys in one system. You can integrate both new and old studies regardless of previous survey systems, data collection methods and languages. In addition to significant savings, this means that you can create synergy in your surveys and work strategically with your customer feedback.
See where you are doing well, where there is room for improvement and where you need to make an effort
You get the Vietnamese' assessments on all relevant parameters from products, efforts and services to departments and locations – regardless of the number. From your own online portal, you can easily and intuitively see, where you can draw the biggest advantage from prioritising your efforts.

Get the customers' feedback in real time – and react immediately
All data is collected, analysed and reported in real time, i.e. in the moment when the Vietnamese give their feedback. This means that you can follow the effect of your efforts from week to week and react immediately. For instance, you can enter a direct dialogue with the individual customers. This gives you the opportunity to be proactive in handling urgent challenges and opportunities, as well as current developments and trends.
CEM Intelligence – enriched with detailed background knowledge of the Vietnamese.
Your CEM Intelligence solution is supplemented with a detailed web of background information on the Vietnamese and your customers. This is possible, because T5Research conducts 260,000 nationally representative interviews each year. Read more here.
Online analysis and reporting
CEM Intelligence brings order to market- and customer knowledge and reports it to the proper decision makers in an easy, structured and operational format. You get online access to a user-friendly analysis- and reporting system. This makes all information about your customers, competitors and analyses available 24/7, regardless of your location in the world.
Thanks to our survey technology Catglobe and our CEM methodology, which we have developed over more than 10 years, we provide CEM Intelligence to all kinds of businesses in all industries – nationally and globally. Read more about CEM Intelligence here, or call us to hear more.