The IP-module immediately brings your call center to life!
Manage and organize your telephone staff, samples and projects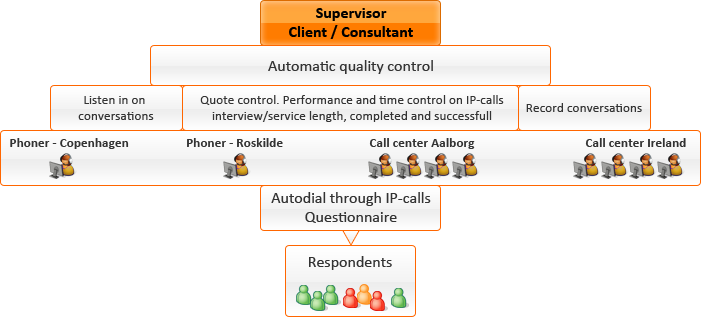 With Catglobe you can access a professional call center, where you will be able to conduct interviews, recruitments, client service, sales, book meetings etc.

Once you have created and specified a project, your phoners can see your briefing and exactly know the content of the project and what goals to be achieved.

The phoner won't need to worry about phone numbers, but simply press a dial button after which the contact base is automatically dialed through IP; built into your call center. Therefore, the phoner only needs a computer with internet.

Likewise, you need not to worry about phone companies, because you are already hooked up. Furthermore, your phone price is extremely low, with all the benefits of Catglobe's total discount.

Due to IP telephony you can employ phoners, who are both centrally and decentrally located. They can work anywhere within the world, as long as they have internet access.

With Catglobe you gain full control of your interview quality. The given numbers are always called, and the call is automatically matched with interview duration. Furthermore, you are able to record conversations and listen in on interviews, regardless of where in the world the phoner is located.

Catglobe manages all kinds of call statistics such as appointments, no answer, busy etc. You also have the option to define your own call status. Furthermore, the system controls all time zones, meaning that appointments can be seen in both your own time and the respondent's local time.