Use the same editor for all interviewing methods!
A flexible editor for setup of both simple and advanced questionnaires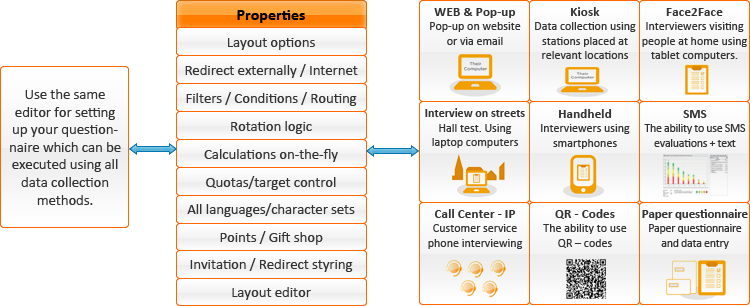 No other system gives you the same multiple question functions as Catglobe!

We attach great importance to user friendliness and flexibility, as these conditions are essential for your analysis projects.

You only use one editor, whether the questionnaire is answered through web, mobile, call center, handheld computer, paper form or SMS.

As a customer you have a large number of advanced options to determine a route for which questions the respondent should answer. You can also enable 'response conditions' on background information, other questionnaires or forms that a respondent has previously completed.

Save your questionnaires and diagrams in your online library, so they can easily be found (including years into the future).

Catglobe manages all kinds of question types, filters, conditions, question properties, languages and layouts – in short: everything!

Using Catglobe, you can also create templates such as customer loyalty tests, advertising tests, product tests, etc. Templates can be reused in the project process, from data collection and processing to reporting.

Questionnaires in Catglobe may be executed in any language. Naturally, the system is connected to a translation module, so you avoid a lot of errors and time spent.

The Questionnaire Editor is top professional and used by many research institutes as well as private and public companies of all sizes – worldwide!