Create templates for reports and automatically update data
Flexible dialogues, invitations and loyalty programs – all based on profile data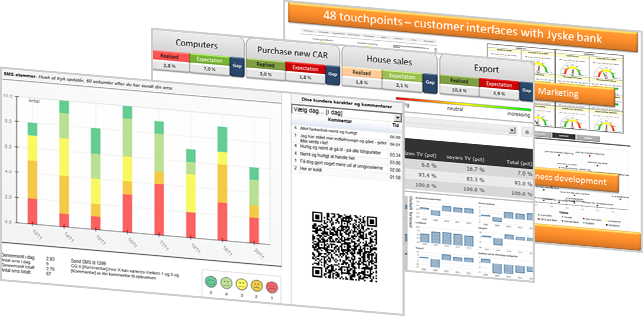 Catglobe allows you to effectively analyze your data.

With Catglobe, you will get an extensive number of possibilities to monitor important processes. If required, you get the results reported in real time.

Since all feedback and actions are stored as consistent data, your reports become interactive. This means that you will be able to report at any stage of the assignment (client case). As a result, you can report specific actions you wish to initiate, based on a given result.

Dashboard allows you to define your very own dashboard using a multitude of tables, graphics, speedometers, thermometers and so on.

Desktop is a unique way in which you can specify how to view and access your knowledge. You can specify different desktops for your colleagues and employees, so each individual only have access to knowledge relevant for him/her.

Crosstabulation provides you with the flexibility of making tables and statistics.

PowerPoint makes it easy for you to configure and merge presentations, in which data is automatically updated.

Document Reports make it possible to create templates for analysis reports, in which data is updated automatically.

Monitor Portal shows a history of developments, in which you can insert statistical attributes and break down the graphics to all your variables.